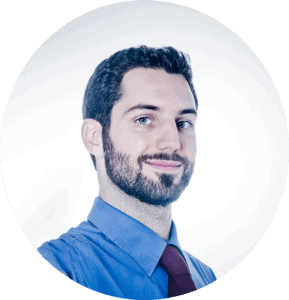 p.p1 {
margin: 0.0px 0.0px 0.0px 0.0px;
font: 12.0px Arial;
color: #396de8;
-webkit-text-stroke: #396de8
}
p.p2 {
margin: 0.0px 0.0px 0.0px 0.0px;
font: 12.0px Arial;
color: #396de8;
-webkit-text-stroke: #396de8;
min-height: 14.0px
}
span.s1 {
font-kerning: none
}
Hi, I'm Elia!
Since 2016 colleagues and clients have called me an SEO consultant, but in reality, I am an "SEO nerd."
I love numbers, patterns and I have a strong affinity to identify and solve problems.
In short, I'm fussy enough to tell you that you could be one of the 80% of people who don't update the copyright year on the website 😀
Unlike many SEO consultants, my approach considers all the elements of a website: from the most technical aspect to the most subjective and organic one (the user who visits it).
Nothing new under the sun, but it's something most of the time overlooked.
<The P.Q.A. method>
I use the P.Q.A. method to get the 80/20 of SEO in the initial stage of a project.
This is, in short, how it develops:
1- SEO / Usability analysis
The Personal Quick Audit is a technical and usability analysis of the website with which problems that limit traffic and conversions emerge.
2- Delivery of the Report
Thanks to tools like Ahrefs, SemRush, and mostly spreadsheets (cheers to Google Sheets!) I draw up a report (video or via shareable sheet) that highlights:
– Current problems limiting traffic
– Real potential and opportunities for the future of the website
– Comparisons with the reference market and sector competitors
3- SEO consultancy
Based on what emerges from the report and the objectives of the company and the website as a whole, I perform further specific analysis and create a concrete and actionable action plan to follow.
The end goal is to improve website's organic and/or paid traffic and optimize its conversions.
<How to contact me?>
Use the website's contact form or reach me out via LinkedIN.
I'd be happy to share some aspects of my work with you!
Hope to talk soon,
take care.
Elia
< something more about me>
I am introverted, and I prefer to listen than to speak.
I dissect complicated problems into simple solutions (I always do this 24/7 ..meh!)
Ethics and Honesty are two fundamental values. I put them in front of everything, trying to bring simplicity and a smile even at work.!
I really really love to read 🙂